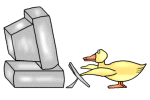 Favorite rides at Disney World Orlando

Tips and Tidbits

Here are some various tips to help organize your life and home.

Do you know how to keep your brown sugar soft? Transfer it to a sealed plastic container and put a full size marshmallow inside with it. Your brown sugar will stay soft.

Do you want to always buy the freshest bread? The bread ties or plastic clips that seal your bread are delivered each day by a designated color. If you want the freshest bread products follow this chart: on Monday buy Blue, Tuesday is Green, Thursday is Red, Friday is White, Saturday is Yellow.
Invest in a label maker. You will be surprised how helpful these are in your organizing efforts.
Cards at the dollar stores are generally 2/1.00. Take your list and get a month's worth at a time.
When you move, empty a dresser drawer into a box. Put your bed linens into the drawer. When you get to your new home, you won't have to search for your linens the first night.
If you have a hard-wired smoke detector that is beeping - vacuum it.
If your refrigerator has any spots that are hot to the touch on the outside, vacuum the coils on the bottom or back.
h1>

This site is © Copyright TSI 2012, All Rights Reserved Terms of Use and Privacy Policy